Dream Cottage-Original
Family Background
7 children ranging in age from 2-13
homeschooling family- need lots of storage
Mark also works from home and needs privacy
Must haves:
open plan main floor
large functional kitchen
pantry storage
mudroom
tower office for dad with 360 view
large porch/sunroom at the rear (ability to enclose but not climate controlled)
EXTERIOR
Stone foundation
Blue Siding
White and wood coloured accents
Tower for the Office
Two level porches in the rear facing the water
SURVEY PROPOSAL – This has been approved by LTCA & the city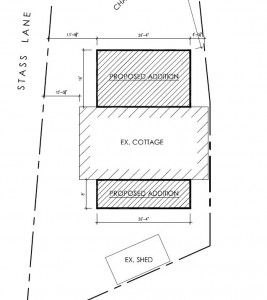 MAIN FLOOR
Kitchen
Familyroom
Pantry/Home School Space
Mudroom
Half bath- near rear of house
Porch/ Sunroom
KITCHEN
Extensive windows
Large island with power and seating for at least 5 ( suggest 2 extra seats on side on island near current 3 seats)
Paneled fridge and dishwasher
Additional fridge and freezer drawers (paneled as well)
Access from side of house for groceries etc..
Suggested Layout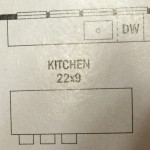 Images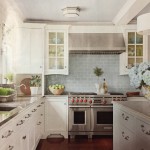 FAMILY ROOM
large fireplace
room for ample seating
drop down projection screen for movie night
large sliding doors to open to the porch
Sample fireplace- large fireplace stone surround with wood mantel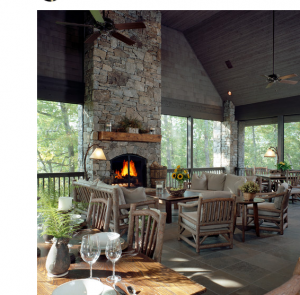 PANTRY/ HOME SCHOOL ROOM
storage for costco purchases and canning etc..
storage for school supplies/ books
storage for inspiration stations which is about 3 feet square (it is on rollers and needs to roll out door when needed)
desk area for computer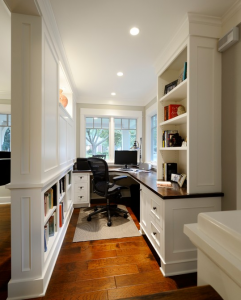 This is a small space but bright and the window makes it feel more spacious.  If the wall behind the desk was closed cabinets above the open shelves, it would be perfect.
MUDROOM
shoe closet (concealed)
cubbies space for 9 people to hang up coats and put current foorwear
will also hold kids back packs, lunch bags, life jackets etc.
mirror and space to put keys would be nice but not mandatory
would also like large windows if possible
HALF BATH
doesn't need to be large
just need a space for guests to go
will likely also be used as a changeroom for guests
PORCH/SUNROOM
finished like the house but not climate controlled.  We would like to be able to sit out there in summer and feel the breeze and humidity etc. but have air conditioning on inside (perhaps windows that slide all the way down or removable glass inserts)
we want a screen porch but need to be able to close it up to manage the bug issues
would also like ability in winter to put space heater(s) out there and open up the large sliding doors to the family room to make one big space to accommodate large family gatherings such as Christmas
BBQ area with ventilation hood
SECOND FLOOR
Master Bedroom (with porch on the rear of the house)
Master Ensuite
Girls Bathroom
Laundry/ Closet for older girls
Bedrooms for little girls (minimum of 2 but if we could fit 3 small bedrooms, that would be preferred.)
MASTER BEDROOM
King size bed ( would like windows on each side but do not want bed to overlap windows)
Only other furniture required is tv console
Large walk-in closets ( his and her closets would be great but not mandatory)
Large sliding doors to access rear deck that goes same width as the porch below.  Deck does not need to be as deep as the porch though
Space to conceal our elliptical trainer if possible.  If not- perhaps this could go on the porch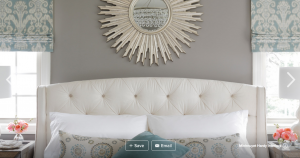 MASTER ENSUITE
Jetted tub beside window
Glass shower
Rainfall shower head and jets
Temp control
Double sink (if possible but not required)
KIDS ROOM ONE- BUNK ROOM
Central window and room to accommodate bunk beds on either side of the window
Large closet (walk-in if possible)
Doors could be barn style if space is needed and no room for doors to swing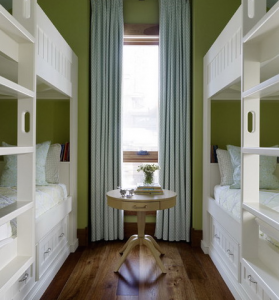 KIDS ROOM TWO
Similar to above but would like to build a window seat that fits a twin mattress and have a trundle bed below
Would like build in closed storage on either side of the window seat that would function as drawers on the bottom and closet on the top.
Rest of the room would be open to act as playroom/ gymnastics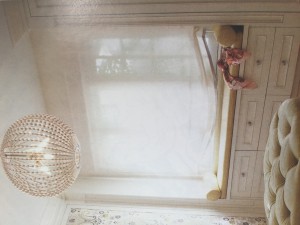 KIDS ROOM THREE
Would love room like below so there is lots of space for the girls to play
Love the large window by the bed
Large Closet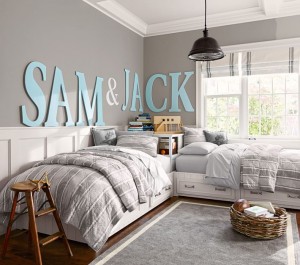 THIRD FLOOR
LOFT
sleeping and hang out space for 3 teenage girls
each girl needs some personal space( thinking elevated bed with personal space under near concealed by sliding barn style doors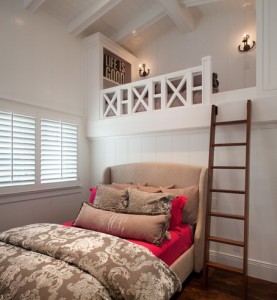 Example of loft bed needed for each girl.  We would like to put the bed up top for each girl and have a personal space below
Would love if there could be a window in the bed are up top.  Also would like a bookcase on one side if not two.  Needs to accommodate a queen mattress.  Needs lights and power in the bookcase for kobo and ipod charging, alarm clocks etc.
Ideally below, the barn doors would be able to slide out to each side and reveal a personal nook.  One likes to sew all her clothes, another is an artist etc.  This would be personal space for their work projects but could be concealed when not in use.
Wondering if we need skylights to give light to the central area where we hope to have couch, chairs, tv, game consoles, etc..
TOWER OFFICE
360 view (windows to come down to just above the desk)
vaulted roof is possible
build in desk space for 2 computers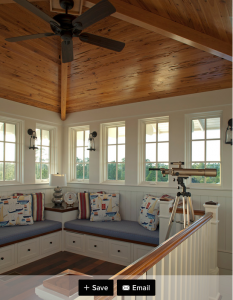 MISC
QUESTIONS / CONCERNS
septic runs
cooling of third floor/ loft