Today was our day to go explore outside of Tokyo – we planned a day trip to Mount Fuji with a tour group.
We were up by 7am and jumped on the subway at 8am to make it to the pickup location for by 8:45 -The LOVE sign 🙂
We had a full size bus at full capacity. All non-Japanese riders. Weather wise it was the perfect temperature with no clouds. The tour guide was very excited as it sounded like the best day in weeks.
The drive to Mt Fuji took us on a 2 lane highway very much like we have at home. As we got closer we could see Mt Fuji getting larger and larger. It took about an hour to get there.
Our first stop was Oshino Hakkai "Oshino Eight Ponds" – there are natural springs here from Mt Fuji with a traditional old village around them. We had a chance to get some excellent pictures and drink from the clear springs. The locals use the water to power a mill and local treats can be had, specifically we were told to try taiyaki. All we were told was that they were sweet and made with green dough. Well… watch the video 😉
After 30 minutes exploring, we headed to our next spot, and lunch – Oshino Shinobi no Sato, "the Oshino Ninja Village". When we booked I opted to get the trip with lunch and we were very glad we did. It came with a bowl of simmering vegetables and meat as well as a buffet of mixed foods like fried calamari, salads, chicken and yes, rice. During lunch we had our picture taken with a real ninja. When we were done, we headed outside to soak our feet in the hot springs and visit the ninja park. Another very neat idea, families come and dress up (mom and dads too) as ninjas and partake in various ninja style events like ninja start throwing!
After lunch and the park, it was time to head up the mountain. 5th station is the closest you can get by vehicle. Unfortantely, there was so much snow, they closed 5th station and we could only go up to 4th station. Still we were above the clouds when we arrived.
We learned in the summer, you can hike from 5th station to the summit, it's about an 8hr hike up.
We only spent 15 minutes there, as we had to make it down to the next exciting adventure, the 4D ride. There is an amusement park about 5 minutes from the base of the mountain with roller coasters and such. The 4D ride lets you explore Mt Fuji during various times of the year. Although you can't record the ride, I did record the welcome video that explains what you will EXACTLY experience.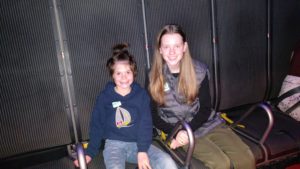 The last part of our trip was a drive out to one of the 5 lakes that surrounds Mt Fuji – Lake Kawaguchi. Our guide said besides the views, they served great blueberry ice cream. How could we resist that? The clouds were rolling in so no more clear photos of Mt Fuji.
Our drive back took us about 2hrs since there was a lot of traffic – Sunday night everyone heading back to the city. On the way back, the guide held an origami competition and Tammy and Kaelyn won. They made a boat and shark. The winner received 2 crane origami as prizes.
We arrived back in Tokyo at 7pm and took the subway back home to the apartment. It was a long day and very fun (and tiring).