The key to homeschooling is definitely a warm pool and beach side tables. Today the girls begged to be able to do homeschooling a little longer. To delay our adventure just a couple hours so they could hang out by the pool, swim and do math.  We never thought we would hear those words.
I have to admit it was a very relaxing morning and I found myself wishing everyday could be this easy. Since we were not due to go crabbing until 4 we texted Daddy and had him join us by the pool when his meetings were done.
Shortly before 2, we pried ourselves from resort life bliss and set off for the village of Hatteras. We explored the ocean centre which is a small not for profit that has only been in existence for a few years. The exhibits were lacking a bit but the staff definitely made up for her. We all learned lots on our crabbing adventure. It started with a classroom lesson and then we headed out to the marsh boardwalk to try our hand at crabbing.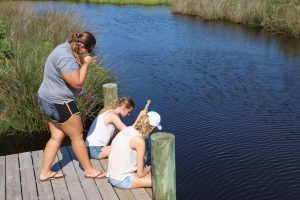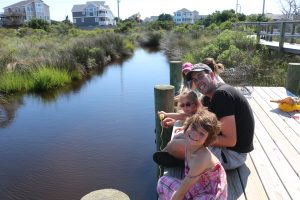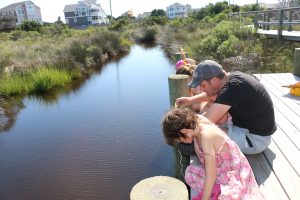 Kaelyn caught the first crab but Sam wasn't far behind.
Daddy, Hailey and Cierra all caught turtles. We were all shocked that the bait was chicken. They said anything smelly would work though. They also told us to head out to the beach at night and try ghost crab hunting. We didn't do it but we did meet a homeschool family with 10 kids at the pool that night that said they do it every night.