Today we woke and Daddy made a feast for breakfast.  We were suppose to go sailing on the sound today and he wanted to ensure everyone had lots of nourishment before we set out.
Unfortunately, Kaatje and Kaelyn had other plans.  Their continuous squabbling caused Daddy to want to pack up and home early.  As a result, we altered the days plans and headed to Corolla so Daddy and Hailey could take a wild horse tour.
There are several options out there but we choose to go with the not for profit agency that cares for the horses.  We learned so much- from the need for birth control to protect the health of the herd, to local history- we had an amazing guide.
For more information on the agency- check out below:
MISSION
To protect, conserve, and responsibly manage the herd of wild Colonial Spanish Mustangs roaming freely on the northernmost Currituck Outer Banks, and to promote the continued preservation of this land as a permanent sanctuary for horses designated as the State Horse and defined as a cultural treasure by the state of North Carolina.
http://www.corollawildhorses.com/history-banker-mustangs/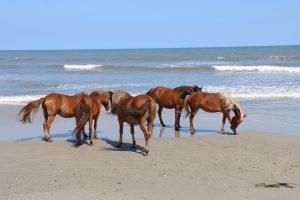 Below is where the mustangs would weather the hurricanes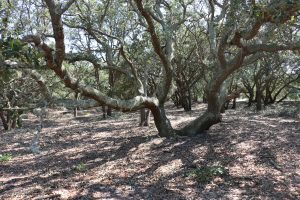 Poor Sam was so exhausted by the heat, that she couldn't stay awake.