Since the transmission was fixed sooner than expected, we decided to make the most of it and head to Busch Gardens the next day.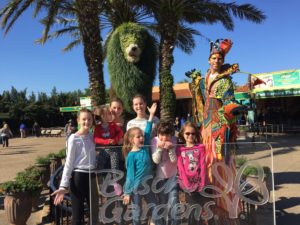 The girls were so excited.  We had been here years ago and Kaelyn was a hair to short for the most exciting ride int he park.  She says she has felt incomplete all these years with this hanging over her head so we needed to knock Shekra off the list sooner rather than later because it was March Break and the lines were between 1-2 hours long for each coaster.They Immediately set off for the coasters with Daddy and the younger girls and I went to explore the park.
I included this video here but it was actually filmed much later in the day.  This was here reaction to every coaster.  She was sure the girls and Mark were on every one and she truly feared for them.  If you listen closely, you can hear her say " They got my Daddy", " They dropped him"
It was difficult to drag her away from every coaster because she was so worried about the girls  but likely there were lots of things to see.  As we walked around, we saw several animals and beautiful landscaping sculptures.
We got to feed the ducks.
We went on some rides
Played on the park
And got our faces painted
When Maria was tired of walking, we decided to take in a show- Iceploration. The 30-minute show includes world-class skaters, larger-than-life puppets, amazing costumes, original music and even animal stars.  It tells the story of Austin, who believes technology keeps his pre-teen generation connected more than ever, and his grandfather – and old-world explorer – who encourages him to put down the smartphone and "explore the world," including the African Serengeti, Great Barrier Reef, the Arctic and the Amazon rainforest.
We ended our exploration at Sesame Street Land.  Maria adored the show and was begging for more when it ended.  Guess we should have seen this show earlier and seen it every time it played.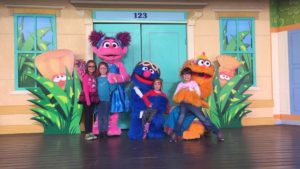 The older girls joined just as the meet and greet was ending and they then took Maria to go and enjoy her first roller coaster.  The word enjoy might be a bit a of a stretch though- after being tormented all day watching it, I think the experience was quite terrifying for her.