We woke up this morning to another traditional Singaporean breakfast with Umi, the maid, who works in our apartment.  As soon as we were done our pork and soup, we got dressed and headed out to the botanical gardens.
We were worried about heading out for some sight seeing on my day off because we saw some dark storm clouds roll in and heard large claps of thunder sound.  We decided to take the risk and go anyways! Who knew if we would be able to go again?
As it turns out, we are sure glad we went!
We walked down to the bus stop, in the surprising cool air.  Thankful it was overcast.
Using our gothere app – which is truly incredible, we caught bus 65 and were on our way!
Less then fifteen minutes later, we hopped off the bus and started walking the short distance to the gardens as a few raindrop started to leak from the sky. What started out as just a little rain, soon turned into a full on downpour! Ten minutes later, even with our umbrella open, we were almost drenched! But instead of turning back, we continued on, happy to be away from the blinding heat for once.
The botanical gardens were truly beautiful with its paved path that lead you into a forest of lush green trees, beautiful blooming flowers and petite little waterfalls and rivers… In fact, the rain made it even more enjoyable!
Being some of the only people there, we ran around and took lots of pictures (or more so mom took lots of pictures of me) before retiring under a wooden cabana, painted white, and draped in all sorts of unique, pink flowers.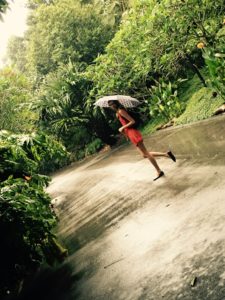 By then we were completely drenched, every single inch of us soaking with water, to the point where I was wringing out my dress!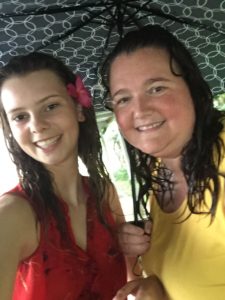 Sadly though, after a few more pictures, we had to head back due to the fact that our electronics were not enjoying the summer rain as much as we were!
After a quick bus ride home, which was quite amusing seeing to the fact that both mom and I looked as though we had both finished competing in a swimming competition, we walked through the mall (even stopping for a chocolate donut) and then retired to our dry, air conditioned room.
After showering we had lunch, and spent the rest of the day relaxing in the room, doing school work, watching movies, and reading.