Ruby falls, an ancient cave that was formed over 240 million years.  It is located in Chattanooga on Lookout Mountain.  Originally there was no natural entrance to the cave .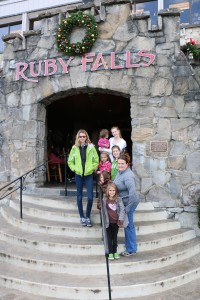 History form the website: http://www.rubyfalls.com/things-to-do/cave-tours/ruby-falls-history/
The story of Ruby Falls begins with the original Lookout Mountain Cave whose natural entrance is located at the foot of Lookout Mountain on the banks of the Tennessee River. Tales of this cave's huge chambers and winding passages have long been passed down from one generation to the next, and the cave's whereabouts have been known by Chattanooga inhabitants for centuries. The rich history of this cave includes Native Americans, cave explorers, notorious outlaws, civil war soldiers, and even a president of the United States. There were many reports of explorers traveling deep into this cave, as far as 12 miles without reaching the end.


In 1905, due to geographical limitations, the Southern Railroad Company was forced to construct a tunnel along the face of Lookout Mountain and through some portions of the mountain for one of its lines. This tunnel intersected and sealed off the natural entrance to the Lookout Mountain Cave. In doing this, the Lookout Mountain Cave was completely shut off to the public.
Leo Lambert, a local cave enthusiast knew of Lookout Mountain Cave and its rich history and had even explored the cave prior to it being sealed off. He longed to reopen it to the public and devised a plan from which to do so. In 1923, Mr. Lambert along with a group of investors decided to enact his plan. His idea was to drill an elevator shaft from another point on the mountain to access the cave from the surface above. Work on this feat of engineering began in the fall of 1928.


On December 28, 1928, while excavating the elevator shaft a worker operating a jackhammer discovered a void in the rock and felt a gush of air. This void was located at the 260 foot level, still 160 feet above the Lookout Mountain Cave. Upon further inspection, an opening, 18 inches high and five feet wide, was discovered.
Lambert, along with a small crew, entered this opening to explore the new found cave. While exploring they discovered a number of unusual and beautiful rock formations, flowing passages and several stream beds. Pushing their way deeper and deeper into the cave, they finally reached its marvelous jewel, the waterfall. Mr. Lambert and his exploration party were awestruck by it magnificence and beauty, and quickly returned to the surface to share their new found discovery with the rest of the crew. The round trip journey took them about 17 hours.
On his next exploration into the cave, Lambert took several people including his wife Ruby to see the many wonders they had discovered. While gazing at the waterfall, Lambert told his wife that he would name it in her honor, "Ruby Falls." 


Mr. Lambert decided to develop both the Lookout Mountain Cave and the new found Ruby Falls Cave to the public and offered tours to both caves. The entrance building for both tours was built from the limestone excavated from the elevator shaft and the cave trails. This entrance was touted as the "World's Most Magnificent Cave Entrance." "Cavern Castle," as it was named, was modeled after a fifteenth century Irish castle.


From 1930 to 1935 tours were offered to both caves, but Ruby Falls proved to be the most popular with its many unusual formations and of course the waterfall itself. In 1935, the Lookout Mountain Cave was closed to the public. The Ruby Falls Cave has been open to the public ever since and has hosted millions of visitors during its long storied history.


After nearly a century of tours through Lookout Mountain, Ruby Falls is as strong as ever. Developing from a small road-side wonder into one of the 'must see' attractions in the Southeast. Through the years, Ruby Falls has become much more than just a cavern. It is an experience for people of all ages, affording them extraordinary views, inspiring sites and shared memories that will last a lifetime.
Our adventure began after we all squeezed into the tiny elevator.  It started whistling down at frightening speeds taking us deeper and deeper into the cave.   Let me tell you, upon arriving at the bottom, there was no sense of comfort or relief.  There were thousands of rocks and boulders hanging over our head threatening to crash down at any moment.
Our tour guide was waiting for us at the bottom of the elevator where we were joined by the rest of our group.
From the moment we started out it was an amazing adventure… beautifully colored lights were hanging from every nook and cranny you could find and it created stunning colours and shadows.There were thousands of amazing rock formations everywhere and stunning pools of water made the area feel light and breezy even though we were thousands of feet underground.
As we walked through this narrow cave with a very low ceiling height, I couldn't help but think " Couldn't they have made this a bit bigger."  Then, as if the guide could read my mind, she said the exact thing I was thinking.  Then she turned and pointed to this narrow trench overhead.  It was so tight that you would need to shimmy through it on your belly.  Barely able to turn your head or move your arms.  She said that is the original shaft the Leo and his wife had to climb through.  It was unbelievable.  They must have been real thrill seeking adventurers.  We all agreed that none of us could do it.  Certainly not for 17 hours.
Along the tour we passed many rock formations called melting candle, tobacco leaves, niagara falls and others called the donkeys ends!  It was amazing.
We learned on this tour that Leo's wife loved this place so much that she would hike down after hours to meditate, pray and read poetry.  It would be surreal to have this majestic place all to yourself.
In total the tour was about two hours tour -about 45 minutes there and back and some time of course at the beautiful falls. On our way there we met many groups that they called the survivors who were on their way back from the falls.  When we encountered these groups, we had to push up against the sides of the cave to let them pass, it was crazy crowded down there. Often the tunnels felt barely big enough for one person, let alone room for people to pass.
Maria was not impressed with the tight cave and narrow spaces.  As surprising as this may sound, dad was the only one able to calm down Maria.  He kept her entertained for the entire hike there and back. She really loved feeling all the weird texture and from the rocks and getting to touch the roof for the first time… since dads so tall.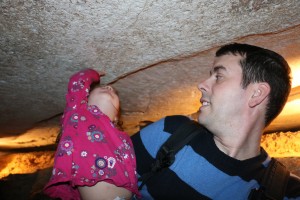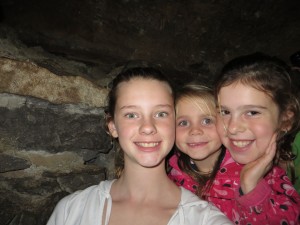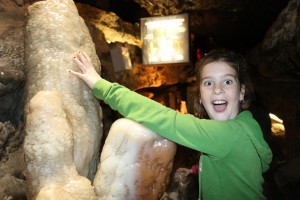 After almost an hour of hiking we reach the falls at first it was very dim lighting for before we knew it it was lit up in thousands of stunning colors the filled the entire area.  Maria squealed with delight at the site of the unexpected waterfall.  She kept trying to wiggle herself free of mom's hand so that she could get closer to the water.
Naturally we all wondered where the water was coming from.  The guide informed us that Leo Lambert asked in his will that the area that this water comes from remains a mystery, since that is what he loves most about this cave.  So they don't really know where it comes from.  They do know that it flows to the Tennessee River though because they placed some dye in the pool at the base of the waterfall and it was found in the river.  They also know that the size of the waterfall increases when it rains.
When we emerged from the cave the girls instantly ran to play on the playground, Kaelyn and I went to go to the lookout point… it was beautiful!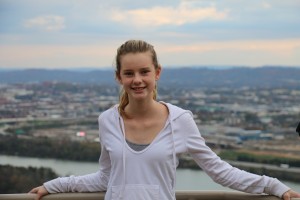 When we came home we had dinner watched a movie and that was about it. It was an exciting day again!!!