Old Town San Diego is a state protected historical park that commemorates the town's early days and includes many historic buildings from the period 1820 to 1870.
Five original adobes ( mud brick building like we built in Thailand) are part of the complex, which includes shops, restaurants and museums. Other historic buildings include a schoolhouse, a blacksmith shop, San Diego's first newspaper office, a cigar and pipe store, houses and gardens, and a stable with a carriage collection. There are also stores, with local artisans demonstrating their craft. There is no charge to enter the state park or any of its museums.  It reminded all of us Sherbroke Village that we visited in Nova Scotia.  The staff were all dressed in period costume and told tales of what life was like back in the 1800s.  For example, the school teacher worked 11 months of the year and got only 2 days off  Thanksgiving and Christmas. She told of the challenges teaching children who could be gone from school for months at a time if they were needed at home.  As well as the 13 year age range.
A bit of the charm of the Village was lost with all the commercial aspects but I can see how this offsets costs and allows the park to be free and accessible to all.  It was wonderful to see several local artists at work on their crafts.
Schoolhouse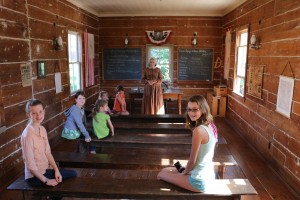 First Mail Carriage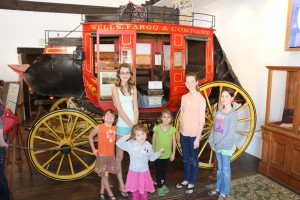 Market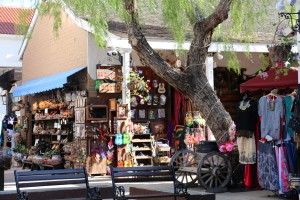 Jail- We were thinking about getting one of these for our time out box