They were right – we woke to 4″ of snow and -9C, the worst part being the slide outs had to be cleaned before we could move out. Not an easy task.
The roads were miserable and unfortunately, not everyone respected the driving conditions. We saw a fair number of cars and transports in the ditches, some even flipped (we saw an upside down car). In fact at one spot we started to loose control and thought it was into the ditch for us. Dad was on edge for a LONG time after that.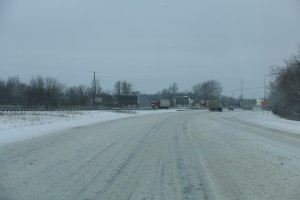 Past St. Louis it was pretty uneventful, but we did discover one point of  interest is that we came within 100miles of "mythical" Pawnee IN (for all you Park & Rec fans).
We arrived in Claremore, OK to 9C weather and no snow, which gave us a chance to enjoy a quick dinner outside before the sun set.
1400km down. Cheapest gas we filled up was $2.09/gallon In southern MO.