Both girls finished early and so we decided to head across the Huangpu River to the second tallest building in the world, the Shanghai Tower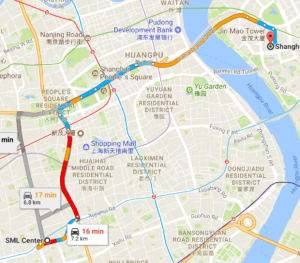 We arrived directly across the street in a much different, less busy world than where we live. It feels more like Toronto here, wider roads, less people, tall buildings. And cleaner. There was many non-locals obviously here on tours and I could see us coming back to walk around as well.
We walked to the side of the building, entered and had to walk down below street level to get to the observatory entrance. We bought our ticket for 180RMB each ($33CAD).
We then took the fastest elevator in the world, going up to 74km/hr. Our ears popped a LOT.
Once at the top, we walked out to the observation deck that wrapped around the whole building. There was a fair number of people but from reading online, not as busy as weekends. Some pictures and videos to enjoy below.
By the time we were done, and given the taxi ride back, we opted to eat in the cafeteria section in the tower. They had a Carl's Jr which I've seen in the US but never eaten at. A little more expensive than McDonald's but not much more, and an overall better burger I think.