So we are very much more in tune with food now. We know where to go, what we like. We are eating more substantial meals too (and likely too many 'eating out places' than we should). But there are some pretty good deals to be had if you go to popular (ie. busy) locations. Here are 2 right across from my apartment:
This is 9.5RMB ($1.75CAD) – 4 pork filled dumplings and a fried bread with stuffed beef. Makes a good lunch.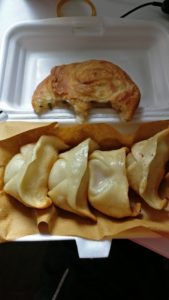 Here is dinner from the buffet place across the street. Rice, chicken with peanuts and some sort of root vegetable (honestly I was hoping it was pineapple 🙂 Cost was 26RMB or $$4.90CAD). Very filling, in fact I only ate half the rice and had it for lunch the next day.