Kaatje had a busy weekend, working Saturday morning and a planned job out of town today. However, things did not go as planned. Because it is a holiday this week (Oct 1-7) everything is slow and busy. People from the cities go back home. So there was no train spaces left to go to Nanjing (this is the place we traveled via train the first week together) so she had to take a bus. No issue there, she met up with someone from ESEE plus should found out 3 other girls were going too. So all was good when she left at 6PM. Nanjing is 300km away.
Until she messaged at 11, saying they weren't there, they estimate arrival is 4AM (for a 9AM job) – the plan was a hotel for thenight and pickup to the job. Update at 12, same time, then by 1 it wasn't good. They had to stop because of the law no large vehicles at night. By 4AM the other models had enough and called a driver and they managed to get to the job just in time.
Here she is, at 1AM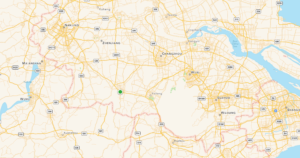 She is now back home to the apartment and getting some rest before our trip to Beijing tomorrow to see the Great Wall.