When we stay somewhere for a week or more, we always leave the last day open to go back and visit whichever place we enjoyed the most and felt we did not get ample time at.  No surprise, this week that place was Crystal Cove.  After examining the underwater map thoroughly, we decided to head to a new area this time where the snorkeling was suppose to be excellent.
We paid our entrance fee, parked and had not even set foot on the trail ( we were still loading up the children with all our gear) when we were stopped by two separate groups who reported a rattlesnake on the trail that had tried to attack one of them.
While everyone else was running away from the area, Daddy had once again dropped all of his gear, grabbed his camera and was off the trail in the bush in search of the snake. He is obviously fearless from all those summers he spent catching garter snakes. I spent the time educating the older children that fearless does not always mean safe. I also took the younger girls to the washroom and told them Daddy loves you very much and just wants to ensure the area is safe before we head down.
Eventually, Daddy gave up. Foiled again. He was sad, and the rest of felt quite safe to tackle the trail knowing that Daddy wanted to see one so badly, that it would never appear. Unfortunately for daddy, we were right!
We headed down and all the girls immediately threw on their wetsuits. We had researched tide schedules and ensured we were at the beach right at high tide. Excited to see what the ocean had in store for them this time, the battle over the facemasks began. We of course were one short. We have a habit of loosing face masks, goggles, etc. to the sea. Knowing Daddy was in no mood for the fighting, I decided to give Kaatje Daddy's facemask since she could wear an adult one and then everyone was satisfied. BIG MISTAKE!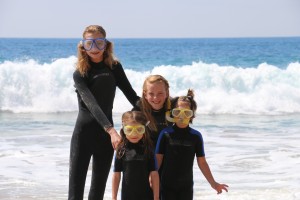 Sidebar: Maria really wanted to go to and was devastated when left behind.  She eventually cried herself to sleep in beach cabana
Within two minutes of being in the ocean, Kaatje pulled the facemask up and rested it on her forehead. She was immediately struck by a wave and the mask knocked off here head. Poof! It was gone. The only thing left was the tears that instantly filled Daddy's eyes. With the rip current and Kaatje standing in the impact zone where it is impossible to see anything under water, we all knew that finding that facemask was near impossible. However, without it, Daddy and Mommy would not get to enjoy the undersea wonders. The girls rushed to Kaatje's aid, bobbing up and down in the surf desperately searching but it was no use…they were gone!
Sam says "This is not going to end well.  I'm outta here!"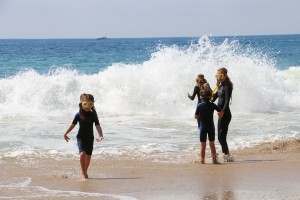 We all turned to Daddy waiting to see his reaction, expecting him to say "That's it, we are heading home." At the very least, we were all sure that Kaatje was heading to a very long time out on the shore. After all, this exact thing had happened two days ago. However, that time it was with her facemask and lucky for her, Kaelyn was underwater right beside her when the wave knocked it off. Kaelyn with her quick reflexes grabbed the strap and saved the day. She did not however, save Kaatje froma a lecture about her proper snorkeling procedure and why the mask should be pulled down around your neck not up. This lecture ended with Kaatje repeatedly saying "I know. I know. I know. It will never happen again!"
But here we were two days later…and it had happened again. Much to our surprise, Daddy had seen how devastated Kaatje was at the realization of what she had done. HE simply turned to her and said " Hopefully some Angler Fish is wearing them." Hearing him make a reference to his favourite movie (Nemo), rather than yelling made all the girls breath a sigh of relief and it made me love him just a little bit more.
Needless to say, there wasn't much snorkeling after that but there were numerous water fights, beach explorations and sand castles.
Daddy trying to entice Sam into the water.  Sam "No way!  It is freezing."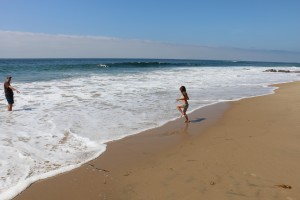 Daddy eventually succeeds and Sam having so much fun breaks into a funky dance.
Tammy, unable to resist a dance party joins in.  Not long after, the dance party turns to wave jumping and then weight lifting for Daddy.
First Water Fight.  Tammy versus Daddy
Satisifed with her win, Tammy and Daddy set out to find their next victim- Hailey!
Hailey, not impressed, proves that she does remember those karate lessons. Tammy goes flying and Sam launches into a lecture that would make any mother proud.  Notice the random observer who is so fixated on Sam scolding Hailey for her choices and the impact on others that she stops mid stroll to hear Hailey's answer to Sam's question "Do you really think that is appropriate?"
Knowing that is wasn't, Hailey reluctantly allows restitution and all is forgiven.
Kaatje's turn!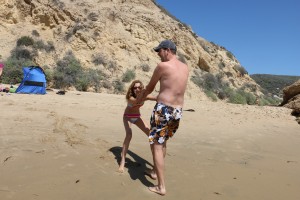 Somehow, she manages to escape.  Or does she?  She does not, but it was not caught on film.
After all the waters fights were over, we were all still smiling.
Sam explored some more and made sand angels
Maria and Cierra built even more castles
Then we all piled in the car and headed home.  Another wonderful Day!