Since this is National Week, almost everything major is closed and so is ESEE. So we planned, even though others had warned us it would be crazy, to travel to Beijing. When else would we have a chance to see the Great Wall and other local sites.
It was indeed going to be busy, since there were no 2nd class (ie. cheap) tickets left, so instead of 500RMB ($95CAD) each as our tickets back to Shanghai in 2nd class would cost, these were closer to 800RMB ($150CAD in 1st class. They also have business class which is 1900RMB ($300CAD)
Our train departed at 8AM, which meant we needed to get a taxi at 6AM which meant I needed to get up at 5:30AM. That part went well other than a restless night not being able to sleep worrying I missed something. When I woke, i found my phone hadn't charged which had all our itinerary details we needed to get the tickets, etc. I managed a quick charge and off to see the girls. It was NOT easy this time to get a taxi. Almost 15 minutes. But the drive to the Shanghai Hongqiao railway station was quick and we were dropped off at 6:30. Was it busy!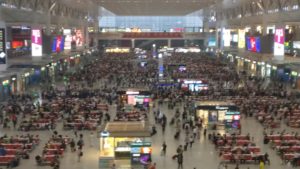 Having been at this station and on the train before, we managed to get our tickets in no time and could relax by 7AM. We decided to grab breakfast at McDonald's, as I was craving eggs, but they messed it up and forgot the egg. It was too busy to complain.
This was Kaelyn's first trip on the train here, so we made sure to show here what to do and boarded the train for our 8AM departure.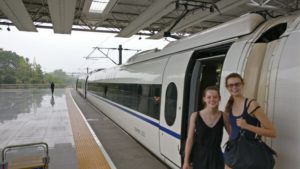 The train was the same as the one Kaatje and I took earlier. We had 1381km to go from Shanghai to Beijing (north from us) and would took 5.5hrs (average speed was 300km/hr). Typical country side views out our window.
In 1st class though, they provide a bottle of water and some snacks. Kaatje only wanted the crackers and ate everyones 😉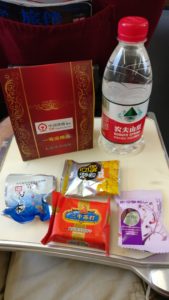 When we arrived, we realized what we didn't plan for – how far north it was. When we left, it was hot and humid in Shanghai. We packed very light for the trip and did not think of the temperature difference. Needless to say, our white skin and tallness were NOT the first thing people noticed. We were the only ones in t-shirts and shorts. And half the people had winter coats on. Come on, it was only 10C outside 😉
We grabbed a taxi to the hotel (Holiday Inn Express Temple of Heaven) and dropped off our stuff and decided to find a place to eat. Unfortunately, although it was close to the train station (5 minutes) there wasn't many places to eat. They have the neatest moped type vehicles here! And then we found a WU MART and bought a sweater for myself. Amazing pork selling station right when you walk in. Want 20lbs of pork, here you go.
We then walked a few blocks to a McDonald's and grabbed some bakery for dessert back in the hotel. We had an early start (7AM) so we went to bed around 10PM.