Kaatje had a photo shoot today so Kaelyn and I had a slow morning and a day of exploring. I found a new mall about 5 blocks away called IAPM. On the walk, I found a gas station (there aren't many around here) and noticed the price per litre, $1.42CAD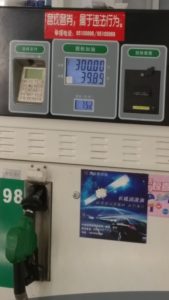 When we arrived at the mall, it's certainly the fanciest one we've seen yet. 2 level apple store. And an upscale grocery store in the basement which had Alberta beef! They also had live crabs, so in the picture those crabs are alive ready to be taken home.
And what's a fancy upscale mall without a futuristic self-playing piano!
There are certainly some amazing looking buildings around here with a french flare (we are surrounded by the french concession)