Get ready all of my adoring followers, before you read any further I strongly suggest you go have a little snack, go to the washroom, put on some warm socks and grab a blanket because I am about to break the record of world's longest post!
We woke up this morning and had a nice waffle breakfast bright and early and then gritted our teeth and went outside into the freezing cold air and into the car. We were on the road by eight thirty (which is very early for us), we had to arrive early if we wanted to beat the traffic. We were headed to The Great Smokey Mountains National Park, a place that gets more than twice the number of tourists the Grand Canyon gets, over eleven million! It the most visited National Park in North America. It was the twenty-second park to be named a National Park and was filled with Natural wildlife.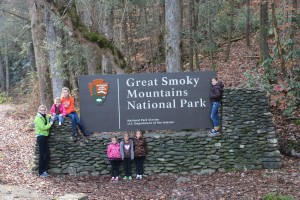 We decided to take a different entrance this time and to arrive there we had to drive past some amazing scenery, beautiful farm lands, rolling hills, and a never ending forest that was lit up in the last of the fall colors.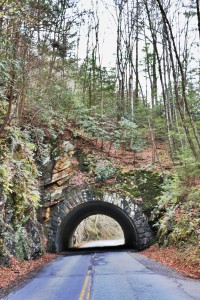 We started our park exploration on a self-guided tour of Cades Cove.   As the brochure says, "this particular cove is a showcase for some of the most inspiring natural and cultural treasures that the Southern Appalachian Mountains have to offer. In fact, there are few other places within the entire national park system where both wild nature and human history can be enjoyed in such an idyllic setting."
Cades Cove is an 11-mile, one way loop road with over ninety-seven historical structures. Our first stop was the Oliver family's house, the first people to live here!
It was crazy to see the house made of logs and mud to fill in the gaps. They had to have a fireplace in every room (luckily there were only three rooms). We learned that it was built in 1818, almost two centuries ago!
The shingles that created the roof of the house each had to be hand carved at the right angle and width, and there were over three thousand! There were also fewer doors and windows then we have today because they needed to preserve the heat in winter. A fence was created around the house to set its boundaries but was made entirely by wood!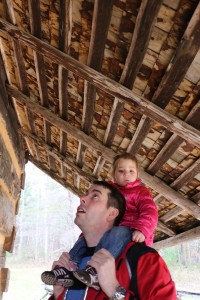 Our next stop on the loop was one of the three church's, it was called Cades Cove Primitive Baptist Church. It was so pretty! We noticed that rocks held the foundation up so that water wouldn't leak threw the floor and cause molding!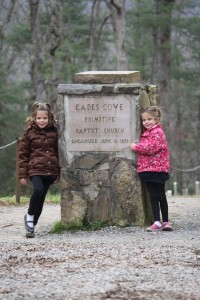 Inside a man was playing some old music that was just beautiful! He was their doing this for free spending hours learning to play these songs, it was really amazing, its stuff like this that just really adds to the experience!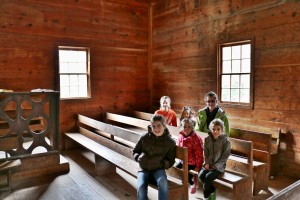 Mom and Dad started inspecting the cemetery behind the church but I stayed and listened to the music for a while. The man playing the music stopped and told me that the roof of the church was made from pine trees, they have that sappy sticky feeling though, so if you look closely, you can see the hand prints of the children who held the boards up as the men nailed them into place! I looked closely and sure enough there were the hand prints!
When I later went to explore the cemetery along with mom and dad we saw some crazy old tombstones that dated back to the 1800's! We also saw some newer ones, and others that made us really sad, a small one off to the side read INFANT- JANUARY 13th – JANUARY 17th, he lived less then four days!
As we drove on we were lucky to see lots of deer, wild turkeys' horses and other sort of wildlife! In fact, over two hundred and forty different species of birds live in this park!
The next stop was the Methodist church. A blacksmith and carpenter built this church in 115 days for 115 dollars. We were all shocked to see how far people traveled to attend church and how long it must have taken all of these people just to arrive for an hour session at church each Sunday! This church also had a graveyard and a piano, it was so old some of the keys were falling off and one of the legs were broken but we got to see and even play a little, it was great! Dad noticed that this church, (unlike the last one) didn't have a fireplace, noting how cold it must have been in those windy winter days!   We learned how the Civil War and Reconstruction divided the church, as they did other Methodist congregations. It was also interesting to see the two doors on the front of the building. This usually indicated the custom of men sitting on one side of the church and women on the other. That was not the case here but they had borrowed the blueprints from another such congregation.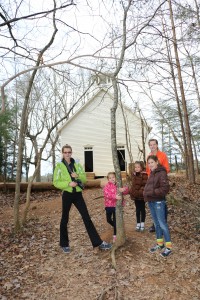 Next was the Missionary Baptist Church. This was probably the nicest but also the saddest. The minute we entered the beautiful white painted church, we saw tons of graffiti! People carved their names in to the side of the wall and seats, the 1900 bibles were all drawn in. It was truly sad to see such a historical building in such a horrible mess!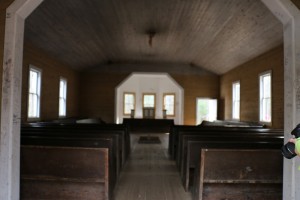 Up next, Elijah Oliver Place. They had a barn, chicken coops and other small buildings. When we emerged from the hiking trails, (You could only drive so far so their was lots of hiking involved) we instantly saw the chicken coop, the door swung open so you could see the inside, and only a hundred or so feet away was the barn. All of these structures were made of the wood from the trees but what was surprising was the fact the it was mostly just to keep the animals from running off, no mud or anything was used to conceal the gap to keep the heat in or the wind out, apparently the animals didn't need it. The barn was old and falling apart but was amazing to see. Even the troughs the animals would eat out of were carved of out wood. The only nails used in the entire building were to hold the door hinge on. The rest was notched wood. We couldn't go in the barn but we got to look through the window and see that there was a spot above the horses and cows that would stored hay for the winter. It so amazing that they had been able to preserves these old sites!
When we went over to the house we learned the whole story. Elijah was the son of John Oliver, the first settler. Elijah moved away during the Civil War but eventually returned an bought this property. Each of the out buildings served a specific function. With no refrigerator or freezer, they needed the spring house to keep milk and butter cool. The y needed the smokehouse to store and preserve hams, shoulders, and side meat for an entire year. They ate mostly pork because it was easier to preserve. They needed the corn crib to store enough corn for grinding into meal to last until the next harvest. Having no automobiles or farm equipment, they needed horses or mules to pull plows, buggies and wagons. Therefore they needed a barn to shelter the animals and to store the hay to feed them. The water they needed had to be carried from the spring. Exploring the house revealed that each room had a fireplace and this house had an upstairs with surprisingly lots of room. They had also built a stranger room on the front porch to house visitors passing along the Cherokee trail.
When we exited the house to our horror and disgust we saw a gang of teenagers actually climbing on the two century old house, causing the shingles to fall off and breaking this historical structure! "Hello dumb heads, this is a National Park you're destroying! Do you want to get you a hammer to make things easier or are you set with just laughing and kicking the roof off. " Like what the heck! As we left we saw them climbing through the window into the barn … are you trying to be destructive, mean, careless, annoying, and stupid? But on the same note I was glad to see them climbing in to the barn. That's the place for dirty and filthy animals… (According to dad).  Dad gave us a long lecture, about why people like that are an embarrassment to their country and that we better never do that!
When were done with that stop we went to one of the main attractions, here we discovered some cantilever barns and houses, the old mill, the blacksmiths shop, live demonstrations and other interesting stuff. In the booklet they spook off how you would have to preserve meat, vegetables and even water for the winter, here you could also find the smokehouse.
What we first saw when we arrived (after having a few snacks) was the demonstration of a man making some sort of syrup (molasses), we got to taste some and it tasted great… back then they couldn't afford sugar so this was the substitute in baking etc…
The horses were walking around spinning two metal cylinders that would crush the twigs called Cane together. One end you drip liquid that you would heat and turn into syrup and the other end would shoot out the crushed leaves that would serve as bedding for the horses. Next the liquid was poured through a sieve and then boiled in the sorghum furnace.
Next was dad's favorite spot… the mill! Most people think that you need a fast moving river to create the mill that spins the pieces to grind the corn that makes the flower and cornmeal, but just a little bit off water powers the whole thing! John Cable built this mill in 1868. The normal milling rate is 40-50 lbs per hour!
We saw another barn and house. This house belonged to a lady who came from a family of nine (like us), she kept busy caring for her children and grandchildren, and by sewing, cooking, reading, teaching and helping out around the farm. This was by far the nicest and well built we've seen, and the only one with a real oven. The Blacksmiths Shop was closed but we still learned that most farms had a small Blacksmiths Shop, but unusual jobs with more difficulty like repairing a wagon axle would be taken here. This one used to be run by John McCauley and Jim Cable. Before we left we stopped at the gift shop where dad bought some pickles and cornmeal.
Our last historical structure stop (but defiantly not the last stop of the day) was the Tipton house. This man was a war veteran that gained lots of money and was able to build a huge house and barn and own lots of land.
We saw his barn and I climbed up in to the hayloft to explore but I nearly died getting down and all dad could do was laugh. Then we saw a sign that said: BEWARE- SNAKES LIVE UNDER THE BUILDING. Dad then threw a wiggly snake looking stick at me and I ran away screaming… in my defense it looked a lot like a snake!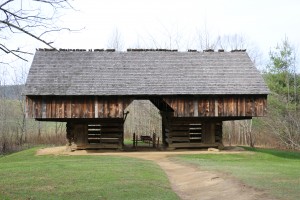 When we climbed back into the car, Mom announced our next and final trip for today, Spruce Flat Falls!
Mom would be staying in the car with Maria who would hopefully be having a nap… (She hadn't had one and with that cold I think it would be an understatement to say she was a bit grumpy). It is great that mom is always the one to step up and say I'll stay behind when you guys go and have the time of your lives… she was the one that found and booked this place anyway.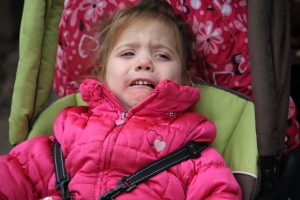 As we started I was ahead of the VERY slow hikers (aka my family) and dad was always telling me to slow down. What they don't know is that I was born wild… I go where the wind takes me and I just couldn't be held back!
The hike was supposed be a forty-five minute hike there and back… but knowing my family it would be a bit longer then that. The path has lots of winding, sharp turns and it was on the very edge of a great drop… that's why dad assigned buddies.
Cierra and I were the only ones who didn't fall… even dad had an amazing fall where he did the splits. As he was falling, he grabbed onto Tammy who responded with immense courage, "I got you Dad!"
But that's getting ahead of the story, let me tell you what happened at the waterfall…
As we arrived Sam managed to sneak away from her buddy Kaelyn while she was snapping a photo, she slipped on the wet leaves and plummeted into the freezing water! Luckily she was only submerged to just above her waist!
There were several dramatic falls after that on the trip back but we all survived.  Sam never left her buddy again.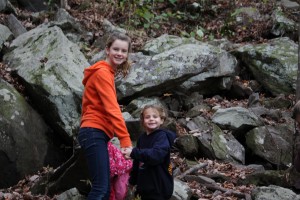 As we climbed in the car and passed around some drinks (Maria didn't sleep at all) mom turned on the movie for Maria to calm her down, I put away my camera and we settled in for a nice quiet drive back… but just as we leaving the park we saw an amazing great black bear! It was like seeing an angel; this was not a cub but not a full-grown bear either! To my disappointment mom would not let me get out of the car to get a closer photo, and the whole time Maria was yelling out "Hi Coco"!
We got back and had showers, had a dinner of warm soup, mashed potatoes and green beans and carrots! We watched a movie and I read a book… (I'm reading the Twilight Saga and it's the most gripping book ever)! After that we went to bed… it was a long and exciting day!