We woke to MORE snow again. Dad had a quick client demo so we left later than normal, around 9:30AM.
After clearing off the trailer we left the KOA and without thinking proceeded down the road on a slight incline. The road was so slippery that at one point we started to slide. We had to keep the gas all the way down and slowly inch up the road. If we had stopped we surely would have gone off the road.
The rest of the day was uneventful. We did see SO MANY trains, maybe 50 across New Mexico and Arizona.
It was nice to stop and finally get some warmer air at the welcome center. A nice welcome message 😉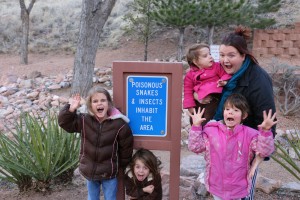 By the time we reached Williams it was 8PM and back in snow storm. We are at 7000ft elevation and at night they turn off the water because it drops to 25C.