This morning dad was up early, he felt bad we hadn't been able to reach mom and Kaatje for 24hrs. So we were off early to get to the closest internet – MacDonald's in Havre, MT (about 120km away). It was also exciting because dad promised everyone who went in the super cold pool last night they would get ice cream.
As we left, we could see the rising steam from the springs and read the history of the area.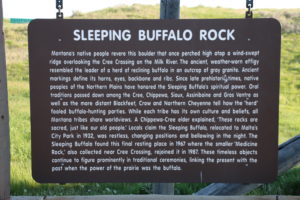 Some interesting things we saw today
So many fields had HUGE piles of rock, the farmers pilled together
Many exits just lead to deserted gravel roads – no one lived for miles and miles, and they needed to get to their fields
We saw Pronghorn Antelope in farmers fields (too hard to get pics), Prairie Dogs and a Bald Eagle
We crossed the border at 2PM. It was more difficult than normal because of some of the questions they asked.
As soon as we were in Alberta we saw the beautiful mountains. I was in love. The view!
We arrived at the campground at 6PM. We ate dinner, then all went for a shower. Everyone was tired so we all just went to bed. Tomorrow the real adventure will begin.