This morning we woke up at 8AM. It was nice to sleep in. Tammy made cheesy eggs for breakfast, with sausage and toast. Dad as normal needed to work in the morning so Hailey and I did school work with the Cierra, Tammy, and Sam. Maria was full of energy and couldn't sit still, until we got out her box of tiles.
It was 12PM when we had lunch. Maria was excited to have pasta shaped like Dory. We ate as quickly as possible. All of us wanted to go see what Alberta had waiting for us.
The first thing we would did was go see the buffalo (tatonka). There was five in the buffalo range. 5 adults and one calf. When we were driving we saw all of them, but only one was close enough to see. It was amazing. The first time the girls and I had seen  a buffalo.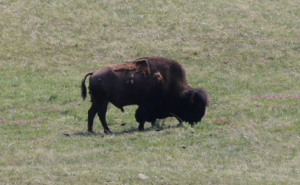 Then it was time for a hike. As soon as we got into the National Park there was crowds of cars all trying to get a parking spot. We had a hard time doing so, but on the last try a car pulled out and we got the perfect parking spot. The trail we went on was called Bear Hump. The hike was long and tiring, everyone needed to stop every few minutes and take a break and drink some water. I was surprised that Maria was not tired, in fact she loved it. Only once or twice did she asked to be picked up, and that was only when it was at a steep part. I could barely breath  by the time we reached the top, then I was truly breath less. The view!

The water, the mountain, everything! It was so beautiful. I felt like I was in a painting, or a picture, something you thought could never be true. Soon Maria got tired of just sitting, so we headed back down. I have to say the hike down was a lot easier than the hike up. You could see that in the way Maria was running. She almost fell ten times because she was running so fast. By the time we had gotten to the bottom we were ready to just relax.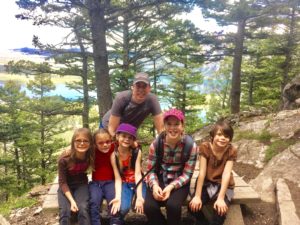 Then drove around to see what they had in town. Dad finally got to see his Big Horn Sheep! He pulled over grabbed his camera and took a million pictures.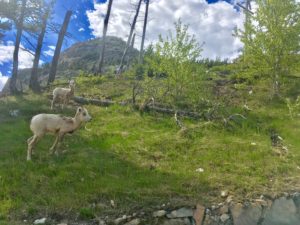 We found another hike to go on but this one with a waterfall. When we were driving there we saw a few cars pulled and as they had spotted a moose.
As soon as we arrived we could see why it was called Red Rock. The stone where the water ran down was a beautiful shade of red. The water was moving so quickly. We carried on we walked through a beautiful forest. It was an easier walk than Bear Hump, but just as fun. We arrived at the waterfall within 20 minutes. Maria loved it! Watching the water and hearing the sound. We were all tired, so we didn't stay long. Besides it was getting late and we wanted to chat with mo & Kaatje.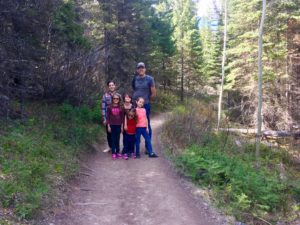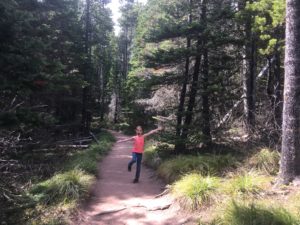 Before we could go home we just had to stop at Lost Horse Falls. Dad always likes to take the cold fresh water and put in on his face and neck. The water was SO cold. Dad could barely even put it on him.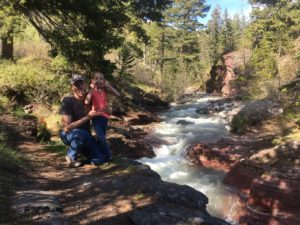 We arrived at the Campground around 5:30PM.  We had meatballs and rice for dinner, while watching Snow White. Everyone was tired so it was early to bed at 7:30PM.
The girls went straight to bed, and Hailey, Dad, and I watched Star Wars episode 4.