One of Jay's friends told him about all the wonderful gardens in Suzhou, about 30 minutes outside Shanghai. We had planned the trip for Jay, Kaelyn and myself to go, but unfortunately Kaelyn got called to job last minute.
The day started early, out the door at 7:30am to catch the subway for our train that left at 9:15am. We had to take 3 metro lines to reach the Shanghai Hongqiao station (this is the one we departed to Beijing from). We arrived and got our tickets with 30 minutes to spare, so we decided on grabbing some breakfast. Mmm egg mcmuffin (serious, I love them).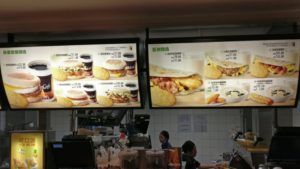 We boarded the plan and buy 9:45 we arrived at the train station. Suzhou is a 'smaller' city of 10million, but they still have 2 high speed train stations and the one we arrived at was massive. A key feature of the city is it's canal system running through the city and the train station boarders it so when you walk out, you have this amazing view. Jay and I decided to walk vs taking a taxi and so our first trek took us to this wonderful bridge to cross to get into the inner city.
In the distance I noticed an interesting building and we decided to head towards it vs walk along the canal. To our surprise, it was a Buddhist temple. What an amazing sight this was to see. So calm and relaxing, monks walking around. I want to go back just to spend hours enjoying the view and calmness.
And ended at the Xuanmiao Taoist Temple.
We then walked back, stopping at the canal for some more pictures and then back to the train station for our 4:45pm ride. In all we walked over 16km that day. I'm going to try and get the girls out to visit this before we leave.
We met up with Kaelyn who was back and enjoyed pizza and movie night.
Kaatje was due back around midnight from her trip.