We woke up this morning around 7:30AM. This morning we had pancakes. Samantha did a wonderful job.
Today we are going on another hike, but this time we'd take Coco.
We did school work as normal in the morning, and I have to say I was impressed with Sam and Tammy. They did their school work very well.
We ate lunch, then left for our hike. Coco was very excited to come with us.We first stopped at Cameron Fall within the village that doesn't require any hike. A large beautiful waterfall that was flowing very strong this time of year. The wind created a refreshing mist.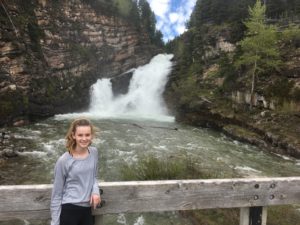 We then drove down the road to the trail head for Lower Bertha Falls. It was an hour and a half hike, taking 5.2km walk,  with an elevation of 175M. entered the trail we saw 5 deer on the path. They refused to move even when Coco was barking at them. Finally they moved out of the way, and we kept on going. The trail today wasn't as hard as yesterday, but just as fun. This trail had more views them Bear Hump. Every 10 minutes there was an amazing view of the mountains and the lake. Coco seemed to be enjoying herself, but tired quickly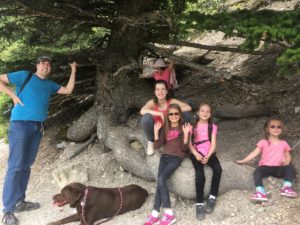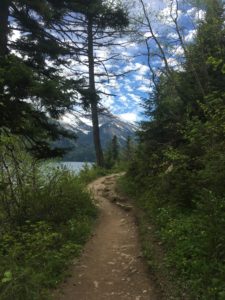 As we carried on we walked into a forest. This trail was much muddier then the trails we had previously gone on. I needed to pick Maria up in many parts. We stopped several times, mostly to view the little waterfalls that ran down the side of the mountain. The water in each falls was so clear you felt like drinking it, and Coco did!
Half way we stopped to take this amazing view.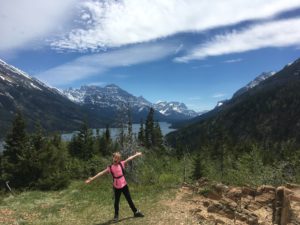 When we arrived at the falls we were stunned. The water so clear, and moving so fast, AND VERY COLD. We enjoyed a nice snack listening to the water cascade down.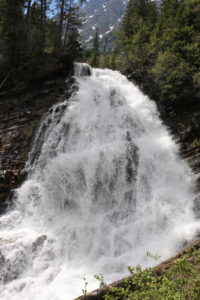 It was 2:30 so we started back down the trail, but had to stop to see the 3 horses that were being walked on the trail. All the girls wanted to trade places with those riders.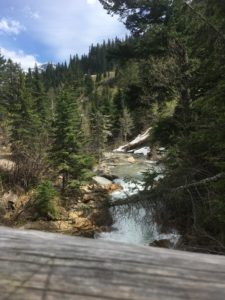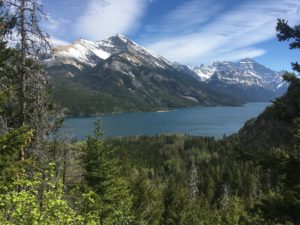 Walking the trail back was easier than the hike up, but still very hot. When we reached the bottom two women were standing at their car pointed out a black bear about 20ft up the mountain. As we drove back into town Dad stopped to get ice cream. I picked blueberry cheese cake and another scoop was s'more's.
When we got home we ate dinner and since the  girls were very tired from the walk went straight to bed after talking with Mom and Kaatje.
Dad, Hailey and I stayed up a bit later to watch Star Wars and went to bed around 10PM.