After yesterdays visit we had to go back. Dad and the older girls REALLY wanted to hike a trail. We started a little late (because Dad had to work) but we arrived by 2:30PM.
Tammy was eager to 'burn off some energy' and came with Dad, Kaatje, Kaelyn and Hailey. Mom stayed with the other girls and walked around the visitor centre, book store and became Junior Rangers.
We took the orange bus to the South Kaibab Trailhead. To walk the full trial they tell you to plan 8hrs. Since we didn't have that much time before darkness we would go as far as we could and return. The start of the trial was AMAZING (and tiring on the way back). Because the sun didn't reach that area, it was very slippery and zig zagged back and forth down hundreds of feet (see next post video).
We hiked 1hr in, 1hr back. We took some amazing pictures and everyone did a great job on the hike, everyone was positive.
When we climbed back up, we took the bus back to Mom and the girls, and drove along the desert view road taking more amazing pictures.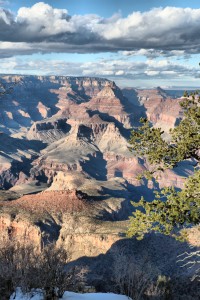 By the time we were done it was 7PM and dark so we grabbed hamburgs at Wendy's in the town just outside and drove the hour back to the campsite.