This morning Dad had to leave early for Reboot. So Hailey and I got up with the girls early as well. After eating breakfast we started the little girls school work. Maria as normal was a handful.
At lunch Maria went down for her nap, and I turned on a movie for the little girls.
Dad came home at 5:00PM, and we got to swim for 30 minutes before he had to head back. The water was warm, while the air and the wind was cold. Maria loved it. We hadn't swam since we left home.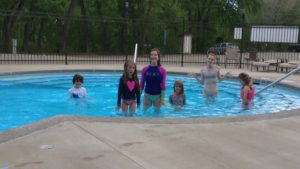 Hailey made dinner – we had pasta, while watching a movie. The little ones went to bed around 7:45, and went to sleep well. Hailey and I then watched a movie together, and us to were off to bed. Dad didn't come home until very late.