Today we woke up early determined to tackle Clingman's dome before we needed to be off the campsite at 11am.  We had tried a couple days earlier but where unable to due to the storm.  It seemed like it would be a relatively easy task.  The drive was approximately 45 minutes there and back but the dome itself appeared to be a relatively close hike from the parking lot.  It seemed very doable.
We were a bit delayed in leaving and it was going to be tight but we thought it would be worth it.
We reached the dome without issue and parked the car.  We set out on the hike to the dome and within minutes we all thought we were going to die.  What all website and brochures had forgot to mention is that the hike is up an extremely steep 12% grade.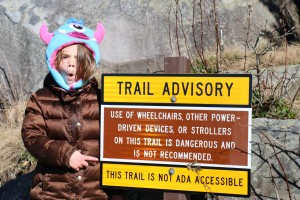 That might not seem like much but think that when driving on the highway all the steep upgrade warning signs occur at 5% grade.  This hike was excruciating.  They had benches every 100 feet and most people hiking had to stop at every bench.  Then there was Tammy.  As we all paused at the benches to rest, she spent the time doing cartwheels and handstands.  Of course, she eventually paid the price on the way down.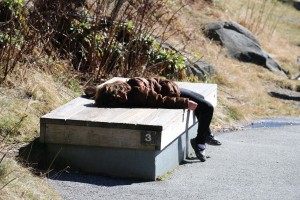 The higher we climbed and the colder it got as well.  Since the trees were no longer there to block the wind, it was frigid.  It was the first time Maris was not begging to get out of the stroller.  Even when we offered, she said no.  Preferring to stay tucked in nice and warm under her blanket.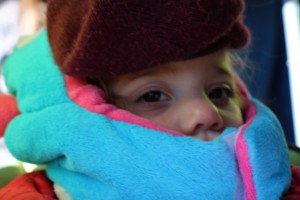 After much longer than anticipated, we reached the top.  It was beautiful and the girls said it was all worth it.