Today started the same way as yesterday, Dad had to leave early for Reboot, but not as early so we had some time together.
I started doing school work. While Hailey took Coco and Maria to the park.
After lunch, Hailey and I took the girls to the park for a panic. Maria to loved it.
At 4:00 Dad was back. We were going to see Mrs. Leanne and Mrs. Janella. We arrived at Indian Battle Park at 4:45 and dad drove back to dinner with the team. We went on a walk towards the High Level Bridge. A few of their kids started climbing the bridge, which in turn, made Tammy do the same. Sam then followed. Maria wanted to go up, but I was worried. What if she went up and wouldn't come down?
Everyone came down safely, including Maria. We then walked up a trail that lead to a view of the park.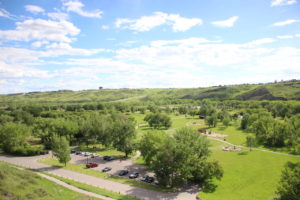 All the kids were excited to run back down the hill.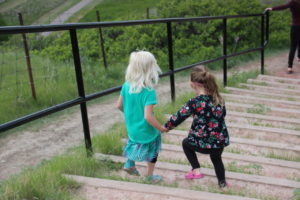 We didn't stay long because the little girls wanted to play. We then went down to a park. That entertained the kids for a while. Then it was dinner time. Mrs Leanne and Mrs Janella had prepared a wonderful bbq – we roasted our own hot dogs, watermelon and chips.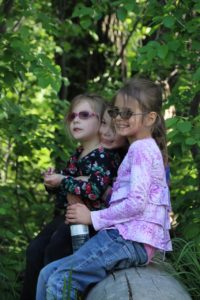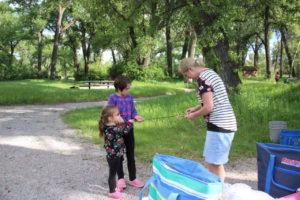 After supper everyone went out into the woods to play. It turns out all the boys are afraid of getting their picture taken. So Aubry and I teamed up. I gave her a piggyback ride, while she took the pictures. I have to stay I was quit tired after running around with a five year old of my back for an hour.
Once we finished playing and taking a few more pictures of the boys, we headed out to an open field where Goffers lived. Little tiny animals that would eat grass and when you got to close would run back into one of its many holes. The girls had fun chasing them. Although they could never catch them.
Dad came a few minutes later. We all said goodbye, then went home. A HUGE THANK YOU TO MRS LEANNE AND MRS JANELLA FOR A WONDERFUL NIGHT.
It was already 7:30PM so it was just time for bed with the little girls. Dad, Hailey and I then watched a bit of Star Wars.