First in Flight- Achieved by dauntless resolution and unconquerable faith!  What a wonderful quote.  The Wright Brothers National Memorial was quite inspirational for the girls.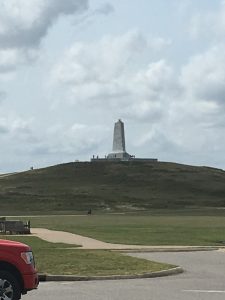 It was amazing to hear that the brothers didn't even have a completed high school education- they simply had drive, determination and curiosity.  From developing a new coefficient of lift, to propellers, to the engine light enough- what they accomplished was astonishing.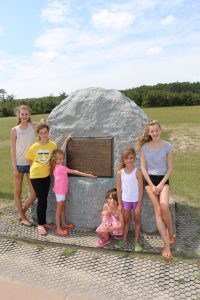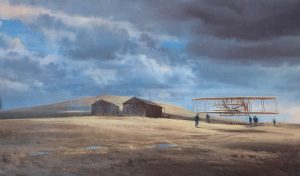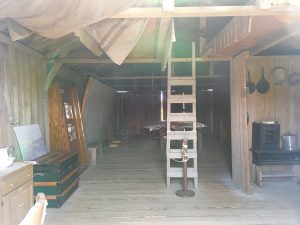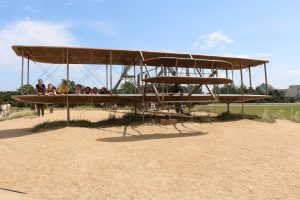 Kaatje really related to the end of the story.  When the ranger asked if we knew why there were only four flights on that famous day.  Once they had succeeded and made it farther and farther each attempt, they had decided that they would fly the 4 miles into town to telegram back home about their success.  However, they were tired due to carrying the glider back to the start on the four previous attempts.  The glider weighted over 600 pounds.  They carried the glider back to the start on last time and decided to take a break and have some lunch.  However, no one thought to put the glider in the hanger or tie the glider down.  While they were having lunch, they watched as the wind picked up the glider and toppled it end over end several times.  Destroying the engine and ending the season.  Kaatje immediately turned to us and said " That is something I would have done!"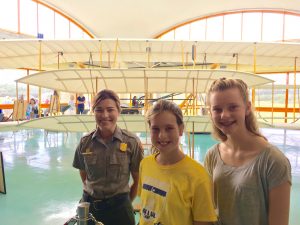 We culminated the day and our experiential learning with our own first in flight.  HANG GLIDING LESSONS!  The girls attended flight school and then took to the dunes at Jockey Ridge State Park.  They say it was an experience they will never forget.  Soaring through the air, feeling the wind catch on the wings of the glider and lifting them up higher into the air.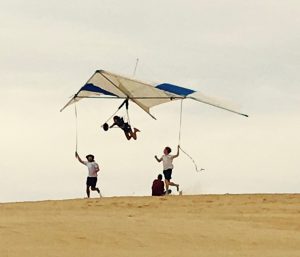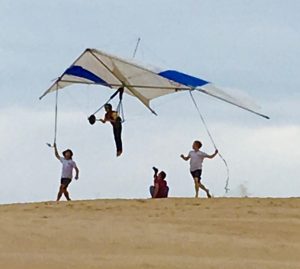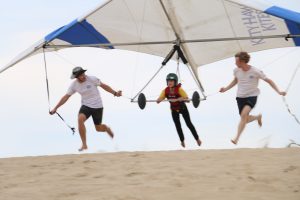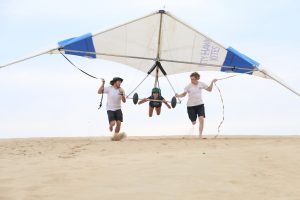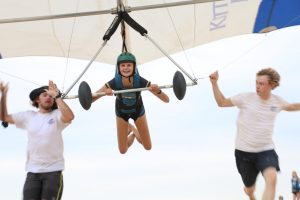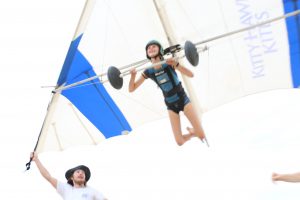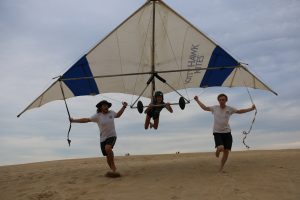 While the girls were flying hang gliders, the younger girls were flying kites.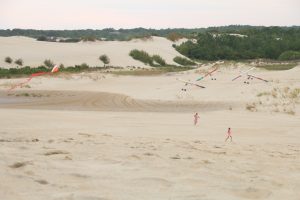 With the girls exhausted and fulfilled, it was tie to fulfill Daddy.  We stopped at the local seafood market where we were educated in how to clean crabs.  We purchased crabs, shrimp and scallops.  A feast fit for a king!
With Daddy satisified, we then set to ensuring Coco had an amazing night.  Coco had her first introduction to salt water and currents.  When she got to the beach, she immediately ran straight into the water, took a huge gulp of water.  Then distracted by the not so pleasant taste of salt water, she didn't even notice the huge wave coming.  The wave crashed over her, and the current sucked her back out with it.  Her eyes were as big as saucers and she was not as tempted by the deeper water after that.  She did run and play until she couldn't run and play anymore though.  A perfect end to another perfect day!