We were all devastated to be leaving Disney.  We went for a quick swim to say good bye and it turned into an all morning swim.  Poor daddy was left to work and pack up camp all by himself.  To my defense, I did do four loads of laundry that morning though.  Of course, it was futile since a temper tantrum ended with the clean basket of folded laundry in a pile of mud- the only pile of mud in the entire campground.  Accident…I think not.  But she swears it was 🙂  As we were pulling out, tension and emotions were high.  I belief Sam even uttered the words- worst day ever!  Little did we know…we hadn't seen anything yet!
About 5 minutes later, we thought someone was honking at us.  We were all looking around, wondering what the heck.  Soon the horn sound turned to a whistling and it became apparent that it was associated with Mark accelerating.  We quickly turned to google and put on our mechanic hats.  It could be low levels of transmission fluid.  Could be a bad seal.  Having diagnosed as best as we good, we set to finding the closest dealership.  Then as quick as the sounds came, they were gone.  Relieved, we decided to continue on to Tampa, in hopes of being able to unload the trailer before having to go to the dealership.  We made an appointment with a dealership just down the road form the campsite and settled back into our seats, believing everything was going to be okay.  Then again, out of no where- turmoil.  As we were heading up a hill, Mark lost all power.  It was terrifying.  From there it was a mad scramble.  The closest dealership refused to see us and referred us to another.  We honestly didn't think we were going to make it.  The car would no longer shift out of second gear and we were terrified we would be stranded in the middle of an intersection with the trailer behind us.  How on earth do you tow a car and a trailer.  The day had suddenly got much worse.  Even if we did make it to the dealership, what were the chances that we would be able to maneuver around the lot with our 33 foot trailer and our 20 foot van.
Again, someone must have been looking out for us.  The service manager met us as we pulled into the lot.  He did a quick assessment and ushered to the park lot inside a gate and found an easy place for us to turn around and unhitch.  Hurdle one was complete.  The next several hours we would spend figuring out was wrong with the van and struggling to find a hotel room that took dogs.  As if the dog challenge wasn't enough, we had also broke down in the city where the Detroit Tigers do spring training and the Tigers had a game the next day.  The whole city was sold out.  We were so thankful when the La Quita said they could squeeze us in but we would have to change rooms each day and the rooms would only have 1 double bed in each.  Not ideal- but at least we weren't going to be out on the street. Guess who got one of the beds…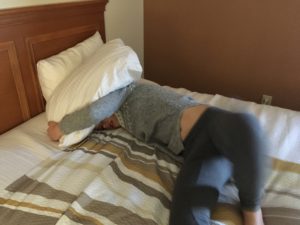 We all agreed that we would not be able to live with her the next day if she didn't get a good sleep.  Maria got one too.
Hurdle two complete.  The final hurdle was a rental car big enough to fit all of us and CoCo.  Needless to say this was also a struggle.  We settled on a car that fit 5 and decided we would shuttle all of us in two trips to the hotel.  CoCo was not permitted in the car though so she has to walk the 20 minute car ride across town *wink wink*  Hurdle three complete.
The upside to this crazy detour…we found the most amazing park.  Unfortunately, only half of us could enjoy it since it was on the other side of town.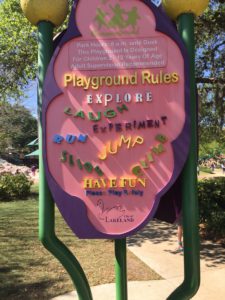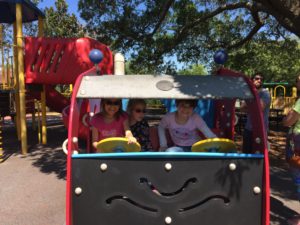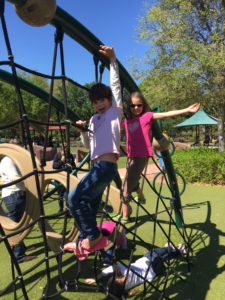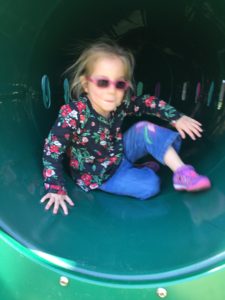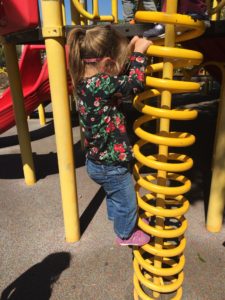 The other upside was the supplier surprised everyone and the transmission was delivered much sooner than expected which resulted ina  last minute call that we could get the van if we could get there ASAP.  Mark and I were very excited but Maria had to be pulled kicking and screaming from the wonderful park.
By 6pm Wednesday, they campground had confirmed they could still accommodate us and we were back on course and headed for Tampa!