The Magic House is a not-for-profit children's museum with the mission of engaging children in hands-on learning experiences that encourage experimentation, creativity and the development of problem-solving skills within a place of beauty, wonder, joy and magic.  The Magic House has gained recognition as one of the nation's top children's museums, and was ranked the nation's #1 attraction based on child appeal by Zagat U.S. Family Travel Guide.  We couldn't wait to get there but were worried it would not live up to all the wonderful reviews we had read.  There was no need to worry.  This place met and exceeded every expectation.  It is a must see for families with young kids.  It left us wishing we could move to St Louis.
The Magic House has an indoor area of over 55,000 square feet in four levels. The Museum is home to hundreds of hands-on exhibits. Some of the girls favourite exhibits were:
The Children's Village: A large play area that encourages children to use their imaginations and to work together in a miniature community, the Children's Village was a part of the 1997 expansion. The village includes among other things a mock market, bank, veterinary clinic, and library.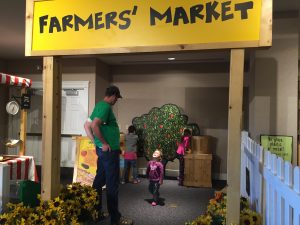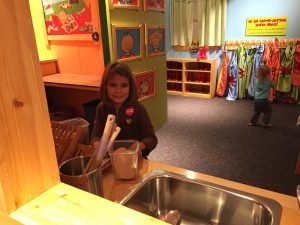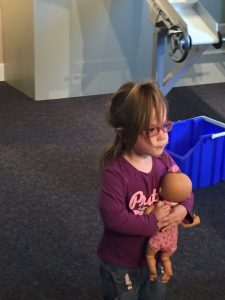 We were in the house exhibit and Cierra was in the kitchen making sandwiches so I didn't hink much of it when Maria walked up to show me her baby.  Then I heard another girl screaming and saw her mother attempting to resrtrain her.  Turns out this was her personal baby that she had ditched on the floor. Needless to say, she was not happy with Maria.  Maria did not want to give the baby up but when she saw how sad the girl was she walked up and said "No cry! Here you go!"  Proud moment.
Jack and the Beanstalk Climber: Based on the fairy tale Jack and the Beanstalk, the climber allows children to climb up and down three full floors.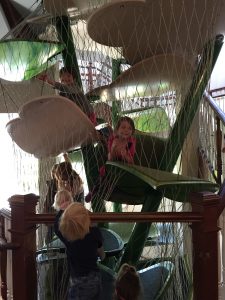 Sunshine Room: Outdoor rooftop where we got to learn about the cycle of food from farm to table and we even got to plant our own seeds to bring home.
Of course they also have had all the tried and true family favourites that any good children's museum has!