Today Kaelyn had her first test shoot. A test shoot isn't a paying job but it helps the model, photographer, stylist, etc – everyone is doing it for free hoping to get the photos in a magazine. She had to be at the agency for 9am to get personally picked up and taken to the shoot location.
This left Tammy and I to enjoy the day together. We decided to quickly zip over to Seiyu (the Japanese Walmart) again to get some staples for the week as they are noticeably cheaper there.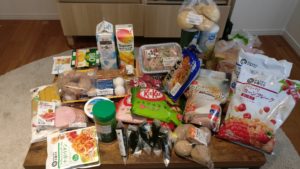 Michelle did some amazing research and suggested we visit Heiwanomori Park in the afternoon. It was pretty far and would require us to take 3 subway transfers. I will explain that in the next post. The ride itself was about 30 minutes and took us to a pretty residential area of town.For a Saturday, and Tokyo, the streets were amazingly empty.
We had to walk about 1/2km to the entrance to the park. The pictures online showed some crazy water bridge stuff so we spent some time walking around looking for it. We had almost given up when we were at the far end of the park and suggested we take the tunnel under the busy road and found it. It is called Athletic Park. You pay a small fee of about ¥600 (~$7) to use the park for the day and it's 40 different climbing, crawling and swinging activities. Each location is like a challenge, you start at one side and need to get to the other.
Tammy had a blast. She was the only one who went on the boat ride at first (and got wet and muddy, ah well). It was a very enjoyable day and will be coming back with Kaelyn for sure.
When we were all done, we walked back and met Kaelyn at home around 5pm for dinner and movie night.