Today was a holiday here so we decided to take the day slow. We started with a familiar breakfast tradition – pancakes, bacon and friend potatoes. The strawberries we bought the day before filled the apartment and let me say, for the $5 we spent, they were worth it. Each one was perfect and tasted amazing. The bacon on the other hand didn't taste like ours so much, so we won't be buying that again. The girls LOVED the pancakes and Kaelyn, who rarely eats the potatoes, admitted he liked them.
After cleaning up, we took our longest subway ride yet to Yokohama (about 45min), home to the 2nd largest building in Japan, a Chinatown and a few other sights near the water. Plus it was another chance to try the subway and get familiar with it.
Kaelyn did not relent on climbing the stairs everywhere, even when it was 500 stairs up it seemed.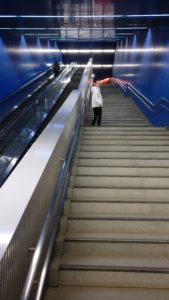 We exited right by Landmark Tower and struggled a bit to find the entrance to the viewing deck, but finally managed. Cost was ¥1000 (~$11) for all of us to go up, which was much cheaper than the Shanghai tower (if I recall it was more like $20 a person).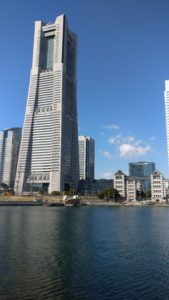 The elevator is the fastest in Japan and the views were amazing.
If the skies were clearer, we would have been able to see Mt Fuji, if you look close in the one picture you can make it out a little. The other picture with the red area is where our apartment is. Down below us is an old sail boat and amusement park.
Some neat things in the building – they had a Sizzler restaurant and a spiral escalator, I've never seen one of those before.
After we were done, we walked down past the sailboat and came across some interesting buildings and shopping. There was also a strawberry festival going on. And it was PACKED. There were lineups of 200+ people to get one of the many vendor treats with strawberries. We came across a really neat store that sold kits to make the fake food that looks so real. Yes, those are light switch covers that look like toasted bread. How cool is that!!!
We continued down through the city until we came to Chinatown. It certainly had the feel of Shanghai with the crowds. There was mostly food vendors selling the same food at each vendor. It was amazing to see 100 places selling the same treat. We did come across a few places selling duck and I remember fondly the meal of duck in Shanghai. We bought half a duck for ¥1600 (~$18 – In Shanghai I believe it was closer to $5).
There was a well known gardens in Yokohama but it was too far of a walk and by this time we were pretty tired so we headed back to the subway. When we got back, we made soe rice and ate the duck and rice. Unfortunately, it was not as flavorful as Shanghai and a little disappointing for the price. The girls weren't keen on it (I'm sure if it was Shanghai duck they would have felt differently).