Kaleyn needed to be at the agency for 10:15am so we woke at 8am to get ready. We had a small technical issue with the water heater from the night before when dad blew the fuse turning on all the heaters which delayed her shower. We got that solved and Kaelyn made herself all pretty.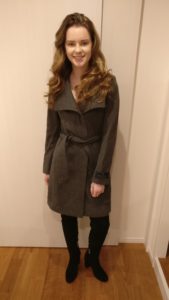 Tammy and I walked with her to the agency which is just around the corner. It was amazingly quiet and not very busy for 10am on a Friday.
After leaving her there, Tammy and I decided to explore the 7-11 across the street as we've heard they are THE place to get snacks. We crossed the road and passed the local gas station & car wash. Then went inside – it really is impressive. But no slurpees 😉
Kaelyn messaged an hour later she was all doe until 4pm so we decided to go out to lunch at the Subway (which is next to the 7-11) and then find some groceries. The subway was pretty straight forward and the staff did very well speaking English so we could order. The girls had a Subway Club and I had the shrimp & avacado sub with a small pepsi each. Total cost was ¥2170 (~$24CAD). One thing we noticed is how controlled smoking is here. They have a separate smoking area (the last picture) and almost no one smokes outside when you're walking.
After lunch we went across the street to Midtown Tower and found the Precce Premium grocery store. It's a high end store but has a reasonable selection of meats and vegetables and pre-made foods. You can see that some food is a premium here, like those white strawberries @ $242…. I know eh. Oh and next time we're there we are going to get the peach Coke to try.
We came back to the apartment and Kaelyn was off to her last casting as I worked and Tammy played some games. Kaelyn came back around 6:30pm and I made some rice and vegetables for dinner as we watched Fantastic Beasts on TV for movie night. By 9pm we were all pretty tired and ended the movie early as we recouped from flying here.