Before we came we heard a lot about the convenience stores here and how amazing they were. They really are amazing and I will do a video showing what the local store has shortly. Today we decided to try some of the food.
First Kaelyn and Tammy tried a chicken burger which Tammy loved, Kaelyn was so so…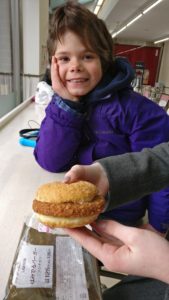 Second was Tammy and I trying the 'mystery item' which we took back to our apartment. Cost was only ¥100. And it turned out to be a corn dog. Oh man it was so good, and not the weird 'hot dog' types we had in Shanghai. They came with neat little ketchup and mustard condiment package. You bend them together to make them come out. And a nice wet nap to clean up. All for $1.20. We will certainly give these a try again.